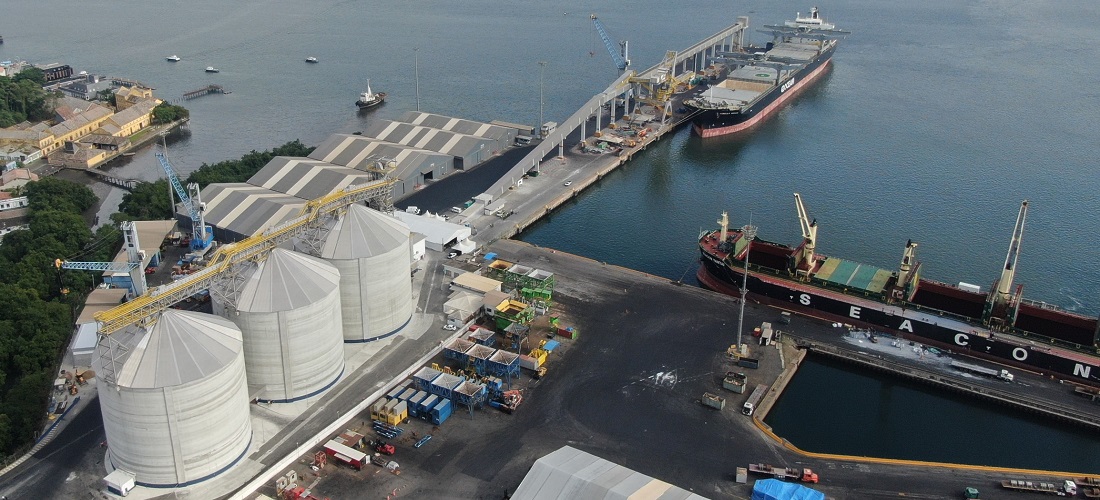 Ports and Terminals
Port of São Francisco do Sul expands grain storage capacity
May, 26, 2023

Posted by Gabriel Malheiros

Week 202324

The Port of São Francisco do Sul inaugurated three new grain storage silos, marking a significant milestone for the Santa Catarina Port Terminal (Tesc). Since 1996, Tesc has leased an area within the public port, and these concrete structures represent their latest investment.

The inauguration ceremony, held on Thursday, the 25th, attracted 300 attendees, including government officials, agribusiness leaders, and representatives from the port sector across the country.

Each silo has a storage capacity of 30,000 tonnes, bringing the combined total to 90,000. These vertical structures stand at an impressive height of 31 meters and span 38 meters in width.

Beto Martins, the State Secretary for Ports, Airports, and Railways, hailed the event as a historic moment for São Francisco do Sul. During his address, Martins conveyed Governor Jorginho Mello's support and appreciation for initiatives like this, which contribute to the logistical well-being of Santa Catarina.

See below the record of the cargo volume exported and imported through the São Francisco do Sul Port between Jan 2022 and Mar 2023, according to the DataLiner business intelligence service.

Sao Francisco do Sul Port | Jan 2022 – Mar 2023 | WTMT


Source: DataLiner (click here to request a demo)

Paulo Capriolli, President of Tesc, commented on the positive impact of the new facilities, reaffirming the expectation of 2 million tonnes of grain annually. Capriolli described the new grain storage system as one of the most advanced in the country.

Tesc invested BRL 250 million in the construction of the silos and additional infrastructure, such as a 400-meter gallery for efficient grain transportation to ships. The enclosed conveyor belt structure, measuring 5 meters in width and 22 meters in height, ensures seamless operations.

The expansion also includes four new entrance and exit gates for trucks, enhancing trucking operations alongside the existing four gates. In addition, the new fully automated equipment features biometric access control and license plate reading technology.

Modern weighbridges have been installed at the gates, capable of weighing trucks larger than 30 meters and handling loads up to 100 tonnes. Furthermore, two 30-meter platforms facilitate the unloading of trucks, and a 43-meter shiploader enables the transport of 2,000 tonnes per hour onto vessels.