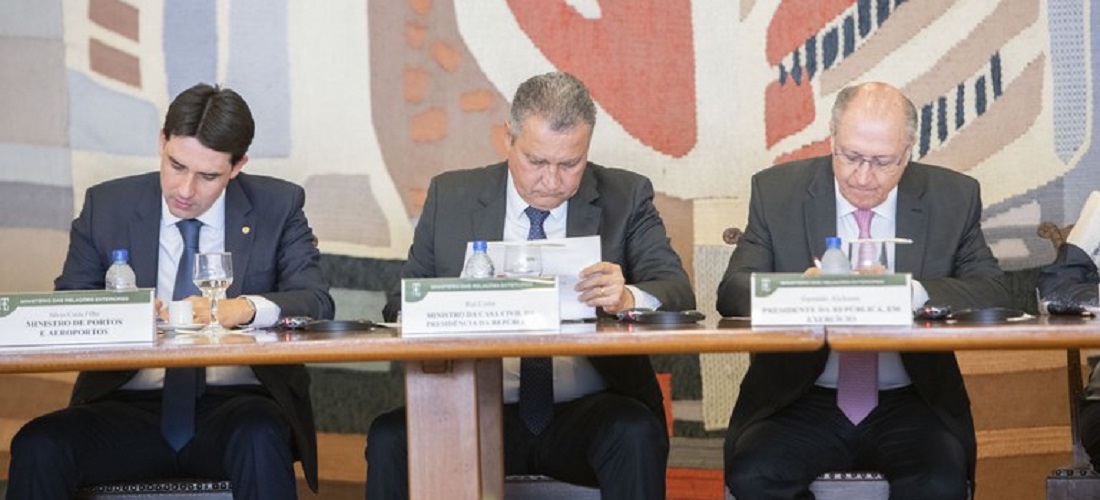 Ports and Terminals
Ports and Airports Ministry joins effort to put New PAC program on global stage
Sep, 19, 2023

Posted by Gabriel Malheiros

Week 202338

Minister of Ports and Airports, Silvio Costa Filho, joined the acting President and Minister of Development, Industry, Trade, and Services (MDIC), Geraldo Alckmin, and Chief of Staff Minister, Rui Costa in presenting the New Growth Acceleration Program (Novo PAC) to representatives from various embassies and foreign investors on Monday (18).

The event, held at the Itamaraty Palace, also had the presence of the Deputy Foreign Minister, Ambassador Maria Laura Rocha, the Special Secretary for Articulation and Monitoring of the Chief of Staff, Maurício Muniz, the Special Secretary for the Investment Partnership Program of the Chief of Staff, Marcus Cavalcanti, and the Secretary for Commercial Promotion and Investment of the Ministry of Foreign Relations, Ambassador Laudemar Gonçalves de Aguiar Neto.

With an estimated investment of R$1.7 trillion, the New PAC is expected to generate approximately 4 million jobs across various sectors, including infrastructure, healthcare, education, and industry. Of the total, R$612 billion is expected to come from the private sector.

In the program's "efficient and sustainable transportation axis," which includes the Ministry of Ports and Airports (MPOR), R$349.1 billion is set to be allocated. In this segment, the Ministry of Ports and Airports will oversee 363 actions and projects, representing a total investment of R$69.1 billion, across three sub-axes: ports (137), airports (95), and waterways (131).

One of the key highlights of the New PAC is the construction of an underwater tunnel to connect Santos and Guarujá (SP). Long-awaited for nearly a century by residents of Baixada Santista, the project is set to receive over R$5 billion through a public-private partnership (PPP).

Minister Costa Filho emphasized that starting in October, following President Lula's recommendation, he will hold a series of meetings with ambassadors from all continents. "The goal is to strengthen dialogue with international investors and boost tourism in Brazil by attracting new airlines to the country," he said.

The acting President highlighted that Brazil is the second-largest recipient of foreign investment, behind only the United States. "Democracy attracts investment. The new PAC will promote development always aligned with sustainability," Alckmin stated.

Chief of Staff Minister Rui Costa endorsed the importance of public-private partnerships (PPPs) for the New PAC. "It's a great opportunity for investors, and the government is open to receiving and reviewing proposals," he concluded.
New PAC
The new PAC cycle encompasses actions in nine areas: efficient and sustainable transportation, inclusive social infrastructure, sustainable and resilient cities, water for all, digital inclusion and connectivity, energy transition and security, innovation for the defense industry, and health, as well as education, science, and technology.
Of the total announced, it is expected that R$1.4 trillion will be invested by 2026.