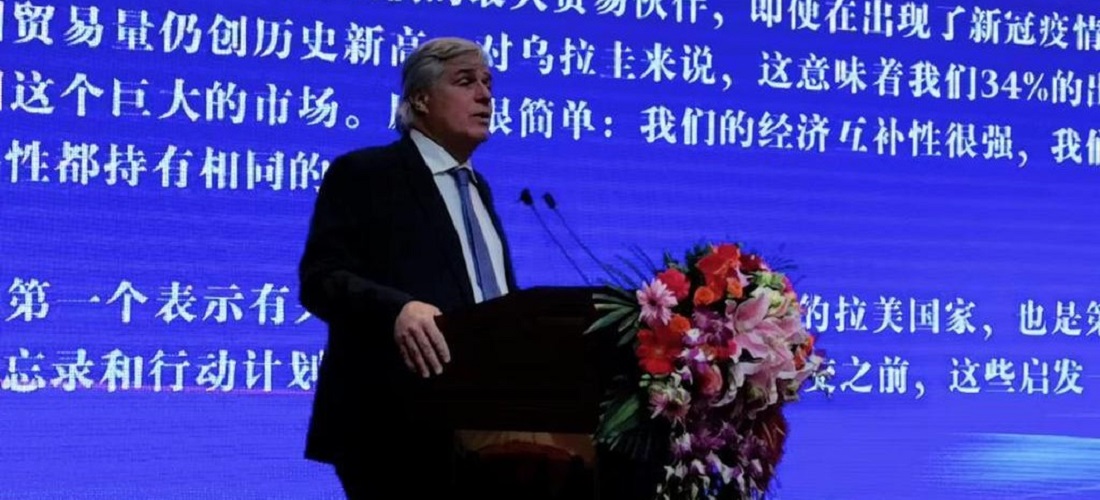 Trade Regulations
China FTA talks on the cards as Uruguayan Foreign Minister Francisco Bustillo begins 5-day visit
Apr, 17, 2023

Posted by Gabriel Malheiros

Week 202319

The foreign minister of Uruguay, Francisco Bustillo, hailed the decades-old relationship with China as he continued a five-day visit aimed at deepening bilateral ties and taking forward negotiations on a potential free-trade deal.

The visit by Bustillo, who arrived in Beijing on Sunday, comes as China seeks to foster closer ties with South America amid growing geopolitical tensions with the United States, which often considers the region to be its "backyard".

The two sides will hold in-depth talks on bilateral relations and issues of mutual interest, the Chinese foreign ministry said ahead of the visit. The April 16-20 trip would deepen political mutual trust, boost practical cooperation and take bilateral relations "to a new height", ministry spokesman Wang Wenbin said.

Coming close on the heels of Brazilian President Luiz Inácio Lula da Silva's trip to China last week, Bustillo's visit also raises hopes of closing the gap on a separate free-trade deal with the Southern Common Market or Mercosur – which has Argentina, Brazil and Paraguay as full members, apart from Uruguay.

Mercosur prohibits member states from making trade deals with other countries without its consent. Moreover, Paraguay still recognises Taiwan's sovereignty, which is a hurdle to consolidating an FTA between Beijing and Mercosur.

Karin Costa Vazquez, executive director of the Centre for African, Latin American and Caribbean Studies at O.P. Jindal Global University in India, said the lack of formal diplomatic ties between Paraguay and Beijing would prevent a Mercosur FTA.

Also, the signing of FTAs between individual Mercosur members and Beijing could harm the bloc, including Brazil, according to Vazquez.

"With a less developed industry, Uruguay and Argentina could benefit from a bilateral FTA with China," she said.

"[But] it could also harm Brazil. Mercosur countries have been the main destination for manufactured goods produced by the Brazilian industry. But the country's market share has been declining … The signature of FTAs between individual Mercosur members and China could further accelerate this process."

Lula has urged Uruguay not to sign a separate FTA with Beijing, saying it would undermine the Mercosur customs union.

Niu Haibin, director of the Institute for Foreign Policy Studies at the Shanghai Institutes for International Studies, said Uruguay showed a stronger will to push forward its own negotiations, after Brazil did not appear to have discussed a possible Mercosur-China trade deal during Lula's visit.

China and Uruguay have already completed feasibility studies on their own trade deal, but have to figure out how to deal with pressure from Mercosur, noted Niu.

President Luis Lacalle Pou, who took office in 2020, has consistently complained about Mercosur's protectionism and pushed for greater economic independence for Uruguay.

Under his watch, Montevideo and Beijing last July announced the completion of joint feasibility studies for an FTA, while urging close communication to enhance bilateral trade and economic cooperation.