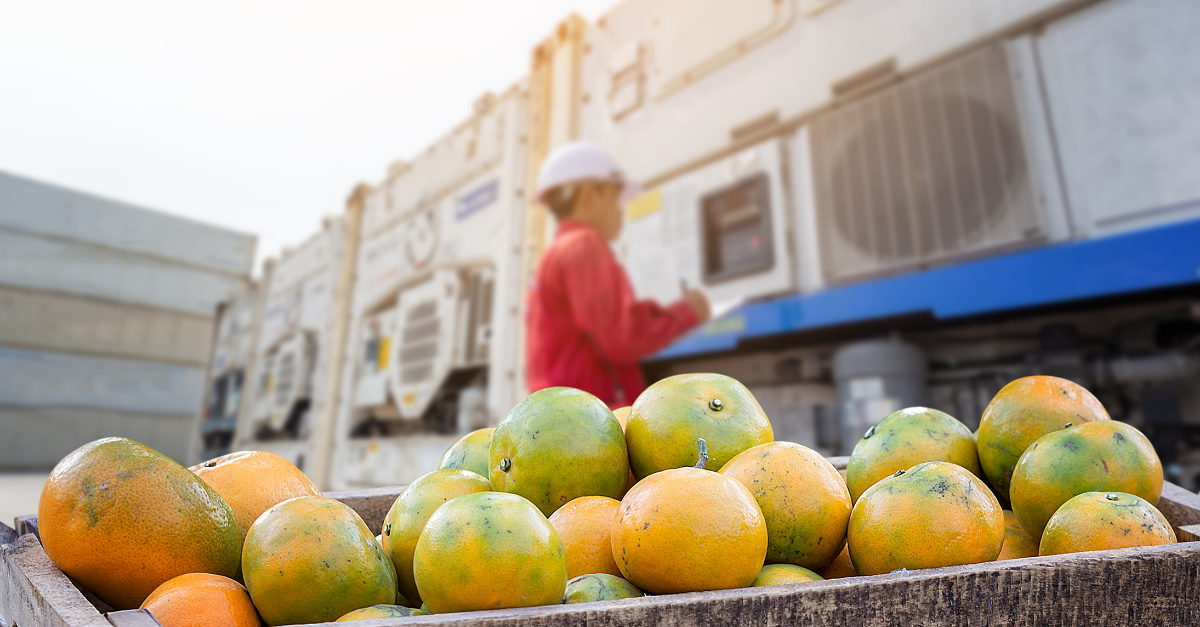 Fruit
Fruit exports return to the pre-pandemic level
Feb, 07, 2023

Posted by Lillian Smoak

Week 202307

The amount of Brazilian fruit exports fell 16% last year, to 1.024 million tons, according to the Brazilian Association of Exporters of Fruits and Derivatives (Abrafrutas). Revenue from shipments dropped 9% to US$ 970.5 million.

According to the entity, shipments returned to pre-pandemic levels of covid-19. In recent years, people had consumed more fruit to keep their immune system stronger.

Abrafrutas also claims that the weather has harmed fruit production in the São Francisco Valley and in the south of the country, which also contributed to a reduction in shipments.

In addition, the fall in purchasing power in various parts of the world also reduced the pace of sales. "This factor was registered, mainly, in the European continent, main destination of fruit exports from Brazil", he says, in a note.

Positive highlights
The most exported fruit by the country in 2022 were mango, melon, lemon and grape, and the main destinations were the European Union and the United Kingdom. These two markets accounted for more than 60% of shipment revenue.

Exports of lemons and limes grew 8% in volume, to 156.3 thousand tons, and 23% in revenue, to US$ 152.2 million. The favorable climate for production in São Paulo, the largest exporter of the fruit, and the increase in planted area enabled the growth of sales abroad.

Weather problems in Mexico, one of Brazil's main competitors in the European market, also favor domestic shipments.

Avocado exports also grew — 26% in volume, to 10.75 thousand tons, and 14% in revenue, to US$ 17.06 million. The growth was due to the increase in planted area and production, according to the association. "As the domestic market for this product is still small, most of the volume produced in 2022 was exported", adds Abrafrutas.

See below the main destinations of Brazilian fruit in the last four years. The data is from DataLiner: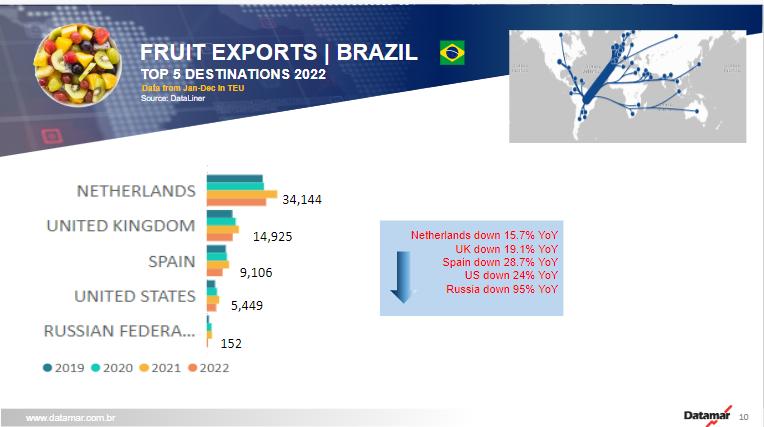 Source: DataLiner (click here to request a demo)
Fruit Logistica
The fruit market on the East Coast of South America, the sector's challenges and the main destinations and trends in fruit exports will be the theme of the lecture by Datamar's CEO, Andrew Lorimer, at Fruit Logistica, an international fair that takes place in the period of February 8th to 10th in Berlin, Germany.
Fruit Logistica is the main fair in the international fruit market and represents the entire added value chain for the fresh produce industry, from the producer to the point of sale. More than 3,300 exhibitors from 91 countries presented their products, services and technical solutions at the event. Around 73,000 suppliers and trade visitors from 135 countries participated in the event.
To learn more about the event visit: https://www.fruitlogistica.com/en/
Source: Valor Econômico
To read the original report, visit: https://valor.globo.com/agronegocios/noticia/2023/02/06/exportaes-de-frutas-voltam-ao-patamar-pr-pandemia.ghtml