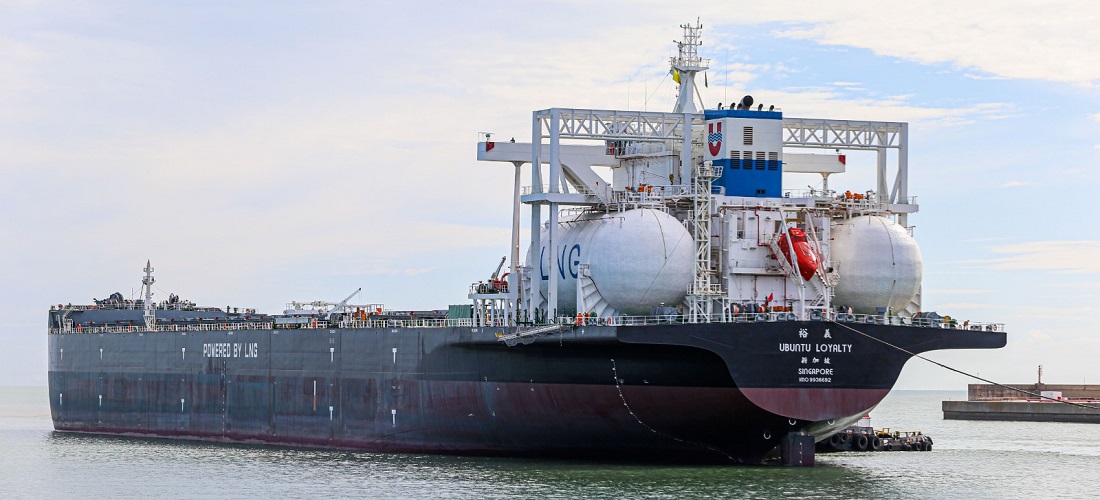 Ores
LNG-powered ship docks for the 1st time in Brazil at the Port of Açu
May, 03, 2023

Posted by Gabriel Malheiros

Week 202321

Anglo American-owned ship MV Ubuntu Loyalty, powered by Liquefied Natural Gas (LNG),  made its maiden voyage in Brazilian waters on Monday, May 1. The vessel docked at the iron ore port terminal managed by Ferroport at the Port of Açu in Rio de Janeiro. This was the first time a ship with this type of sustainable technology docked in Brazil.

According to mining company studies, LNG reduces greenhouse gas emissions by 35% compared to vessels powered by conventional marine fuel. In total, Anglo American's Ubuntu fleet, which was designed in 2019, includes ten ships, with six of them already in operation around the world.

"This occasion is a watershed moment for the entire Anglo American Group and is in direct dialogue with our Sustainable Mining Plan, which aims, among other things, to be carbon neutral by 2040 in emissions and fuel consumption," says Wilfred Bruijn, Anglo American's CEO in Brazil.

With China as its final destination, the dual-fuel vessel Ubuntu Loyalty received a load of 175,000 tonnes of iron ore from the Minas-Rio mine. The port operation was conducted by Ferroport, a joint venture between Anglo American and Prumo Logística.

"This is also a memorable moment at Ferroport because it is the terminal's first LNG vessel. The ore traveled through one of the world's longest pipelines, measuring 529 kilometers, before heading to Asia. The use of this ship is consistent with Ferroport's commitment to safe and sustainable operations," says Carsten Bosselmann, CEO of Ferroport.

The ore terminal was among the first to operational at the Port of Açu. It is considered a reference in terms of efficiency and sustainability. According to the National Waterway Transportation Agency for Waterway (Antaq), Ferroport is Brazil's fourth Private Use Terminal (TUP) to handle iron ore. With a depth of 20.5 meters in its berths, the Açu port can receive Panamax and Capesize class vessels, with a capacity of up to 220 thousand tonnes.